Food is beautiful, let's face facts. Before there was even the concept of color, plants were filling the landscape with it, shaping human ideas of beauty. Flowers and plants have evolved to attract bees and animals for help with reproduction (being legless/wingless makes it hard for them to find mates on their own), so they are darn good looking. The fact that many of these plants are also delicious (not to mention aromatic) makes them sensory-pleasing powerhouses.
This is one reason I love cookbooks: when a book is chock full with pictures of food, it's hard not to be drawn in. But it has to be much more than lovely pictures to be a real resource, especially with so many recipe websites available to home cooks. Some of the cookbooks on my shelves just collect dust, while I turn to others pretty regularly. I got to thinking, what really makes a good cookbook? Which books do people continue to rely on as references? Which ones stand the test of time?
Cookbooks definitely have to spark ideas, and they have to showcase good recipes, but what seems to me most important is a book's ability to inspire improvisation. I think a good cookbook really teaches its readers about the ideas behind the food, so that you can take any given recipe and expand upon it or refashion it until it's your own. A good cookbook, in my mind, teaches techniques, not recipes. It'll teach you not just how to cook a dish, but how to think like a cook. Cooking is a system: you have to understand chemistry, flavor profiles, textures--but you also have to learn to follow your gut.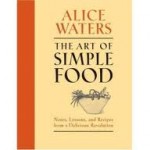 Alice Waters's The Art of Simple Food is a a great example. The recipes are delicious (her beef stew is maybe the best I've ever had), but the way she constructs her instructions really opens up the logic behind each step. She intersperses the ingredient list with commentary about their relevant steps, so that you are required to read the recipe and understand the whole process before you jump in. By the time you've started to cook, you understand what this dish wants from you, and what it's supposed to do to hold up its end of the bargain. A good cookbook has to get you excited, too, and Waters is a fantastic booster of her real food philosophy.
While I was thinking about this topic, I decided to ask some of the chefs at The Chopping Block for their favorites. Since they've all been cooking for years, I figured they'd have some in their arsenal that would be worth revisiting again and again. I also thought readers might be curious to see what inspires some of the creative minds at The Chopping Block. Maybe you'll find your new favorite cookbook in one of these suggestions!
Carrie Bradley loves Culinary Artistry. This useful reference has interviews with chefs, focusing on discussions about flavor combinations and seasonal ingredients. Carrie says it's great inspiration for composing new dishes.
Jeff Adamek recommended Pork & Sons by Stephane' Reynard. This book is an homage to the pig, and to five generations' of family and friends in France who've mastered this meat.
Michele Glancey's latest discovery is Make the Bread, Buy the Butter by Jennifer Reese. It lays out what's worth making on your own, and what is more cost effective and better to buy in a store.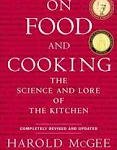 Hugh Amano had several recommendations for me. Hugh says that books that tell a larger story about a region or a type of food are his favorite. Some of his pics were: MEAT by Hugh Fearnley-Whittingstall; Made in Italy by Giorgio Locatelli; Mission St. Food and Momofuku by David Chang; and On Food and Cooking by Harold McGee, which is available at The Chopping Block.
Since the James Beard nominees were just announced, it's a great time to talk about what gets people excited in the kitchen. I'd love to hear from you about your favorite cookbooks!