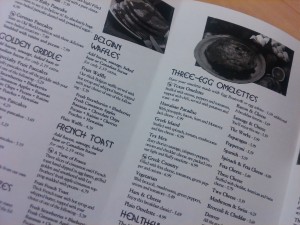 Last Sunday, Dave and I wanted to try somewhere different for brunch, so rather than slip into our usual routine we jumped in the car and decided to drive around the area until we 'found' something! The magic words when Dave spotted a restaurant were 'pancake house' – and the very fact that there was a parking space right out front was perfect. The fact that it didn't have a meter was even better.
We found ourselves at Les Brothers Restaurant and Pancake House in Highland, Indiana. It had that all-American typical diner feel to it – which I love – and plenty of booths to boot! Often my hesitation with any diner when it comes to breakfast is 'how's the coffee going to be?' In this instance freshly ground beans, which is how I always make my coffee at home in the morning – off to a solid start! The orange juice – even better, and freshly juiced on site: the taste of sunshine.
Debbie was our hostess – and she knew instantly that we were new guests, and further went on to tell us that they had another couple that were new to them earlier in the morning. This was great – to be so in tune with your guests as to know who were the regulars and at the same time acknowledging the new diners! Our only problem was choosing what to have – and in the end we made some selections that allowed us to trade off on each other's choices to get a broader sampling overall; grits, side of pancakes, toast and jelly and a meat lovers skillet witch scrambled eggs. When it all arrived we both had one of those – what were we thinking moments, but somehow managed to get through it all.
There are times when you look for and enjoy something upscale, elegant and with an element of intrigue, and others when you seek comfort in some classic pancake house fare, with great coffee, a comfortable and 'warm' surrounding and a fabulous hostess named Debbie. We don't plan on being the new faces here, but instead hope to venture that way again and too become one of the regulars.
Bravo to the all-American diner who doesn't need complicate it, while still delivering what we remember as a great breakfast!