Our new Teens and Kids camps have gotten off to a creative start this summer! As instructor, I've decided to cross culture, music and food. There's no denying that wherever food goes, music closely follows. For example, think BBQ: some of the most notable BBQ places are also home to the blues. How about the feeling you get when you're rolling sushi to the simplistic sounds of a Japanese flute? It may sound cheesy, but we are working to create an environment for these guys (and girls) that allow them to not only to cook, but feel the vibe as well.
Have you ever tried to work in a stressful situation when it's dead quiet? It's horrible! Now take that same situation, add some easy going music and a guide to walk you through the process step by step, while making sure you understand why it's all being done in a certain way. It builds confidence in the kitchen while the campers get familiar with recipe flow and analysis.
So, what is your child going to gain from this cross culture? Appreciation, flow and synergy. The thing music and food have in common is the theory that it takes many working parts to create one thing. Flavors are built upon rather than just added. Techniques are applied as opposed to simply mixing ingredients together. More importantly, when it comes to the end result, they will take the time to appreciate all the work they've done. Music will always tell its story and in this respect, so will food.
One thing that we LOVE to emphasize in kids and teen classes is method and technique. We discuss it constantly! I'm sure any one of my campers reading this are probably rolling their eyes saying "AGAIN WITH THE METHOD & TECHNIQUE!?" Yes, absolutely. How is this relevant? Well, no cooking can ever get done without first breaking it down into two simpler parts. You guessed it: cooking methods and techniques. Once that recipe is broken down and understood, it becomes very simple to not only create that one dish, but a whole meal (which both the teens and kids achieve every day). So yes, we go through cooking and baking, we break down recipes into simpler (non-intimidating) terms and all throughout the week your little chef will not only learn to cook but understand HOW to cook. And at the end of each week, the teens engage in a culinary battle in our very own Iron Chef competition: 16 teens, 4 groups, 4 themes, only one winner.
First we go through how to relax and vibe in the kitchen while honing our knife skills. Then we go through how to break down a recipe and we do that for four days, so come Friday these guys just come in and rock it out! We encourage them to be creative, find an inspiration or a theme maybe from the music we've heard over the week, or one of their own.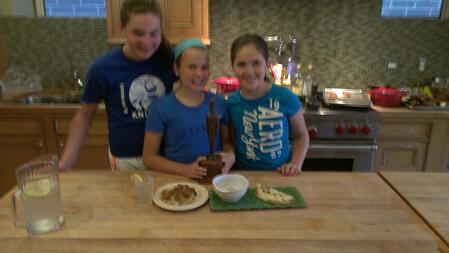 Here are the winners of last week's Iron Chef!
Team "Blues" who absolutely rocked it out with a Cajun/Creole inspired menu. These ladies made a phenomenal Chicken Gumbo over Steamed Rice (and I'm not just saying that, I'd pay money to sit down to a bowl of that any day). They finished off their menu by a classic Bananas Foster two ways, one in a crepe and the other over vanilla ice cream.
What a close competition! I have to give recognition to all the other teams they all did such a great job:
Team "Bob Marley" with a Jamaican inspired menu.
Team "Italy" with the old style Italian favorites.
Team "Cookout" who revolved their whole menu around pancakes. (How awesome is that?)
I'm so proud of each and every one of you guys and I'm confident that someday down the road I'll be sitting down to dinner at a great restaurant saying to myself "Hey, I've tasted this before. These guys are still rockin' it out!"