Most people go into hospitality because they love a good party! At The Chopping Block, we're no exception and a good time was had by all during our recent party, a.k.a. the sold-out Lincoln Square-Ravenswood Fall Wine Stroll.

In between sipping Prosecco and French Malbec and noshing on focaccia and truffled popcorn, many guests had these questions, which we were happy to answer.
What makes your popcorn so good?
Our truffled popcorn is a Wine Stroll favorite and can be yours if:
You know how to pop corn; and
If you purchase a jar of Ritrovo Truffle Salt (3.5 ounce, $27). A little goes a long way to add savory (and reputedly seductive) flavors to popcorn, stuffed or scrambled eggs, fried or baked potatoes, risotto and pasta and – for ultimate luxury – steak or lobster.
Add a bottle of Chardonnay or Pinot Noir – classic truffle complements - to make a gourmet meal or hostess gift.
Chardonnay, Raeburn, 2021, RUSSIAN RIVERY VALLEY, CALIFORNIA ($25): The mushroom-like flavors of truffles echoes delicate oakiness in Raeburn Chardonnay, accented with layers of tree fruit, brown spice and vanilla flavors. Serve as a satisfying cocktail and complement to rich appetizers and seafood, vegetables and even meats, especially prepared with butter, mushrooms and truffles.
Pinot Noir, Morgan, 2019, MONTEREY, CALIFORNIA ($50): Truffles enhance Pinot Noir's earthiness. Morgan Pinot Noir offers cherries, brown spice and subtle earthiness combined with silky tannin, especially delicious paired with rich seafood (salmon) and vegetables, grills, Eastern seasonings and lighter meats. For ultimate decadence, try Morgan Pinot Noir with Truffled Grilled Lobster Tail!
And if you don't know how to pop corn, here's our recipe for Truffled Popcorn.
You mean, you sell it here?
Yes! The Chopping Block offers culinary tools, gourmet seasoning and wine for retail sale, to make your personal enjoyment and gift-giving easy.
Another pairing is Dish D'Lish French Seasoning Salt (5 ounces, $15.75) sprinkled on red meat, rich poultry and the richest veggie cuisine, to enhance Malbec's herbal quality. TCB offers:
Malbec, Reunion, 2021, MENDOZA, ARGENTINA ($20.00): Dynamic and velvety with rich flavors of berries, herbs, leather and spice defined by pleasingly firm tannin, for the richest cocktail and complement to red meats, rich pasta, poultry and vegetable dishes.
Malbec, Chateau Les Croisille "Le Croizillion", 2020, CAHORS, FRANCE ($24.00): Taste Malbec from its traditional homeland in southern France. Organic farming yields deep, dark flavor with aspects of berry, leather, cocoa, firm tannin and the regional dried herb accent. For carnivores!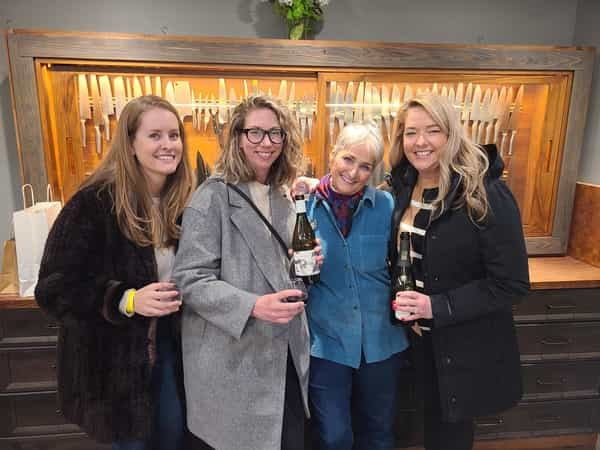 Malbec is French?
Like most of today's popular grapes, Malbec is French, but was yanked from French vineyards in the 1800's. To learn about Malbec's rise in Argentina - the wine world's greatest come-back – join us on Friday, December 1st at 6:30pm for Get to Know Your Grapes.
Learning your grapes is the first step to understanding wine, just like learning your colors is a first step to understanding painted artwork. But like blue may be sky blue, aqua or navy and still be blue, each grape expresses various hues of flavor - from tart to toasty, for instance, or from ripe berries to aged meat. Join me as we taste three prominent grapes in two styles each, to understand how soil, climate and human culture create a rainbow of flavor that is wine. Tasting includes 6 wines: 2 styles of Chardonnay, 2 styles of Pinot Noir and 2 styles of Malbec. Special for the holidays we're including 2 Champagnes! Tasting noshes are served during class.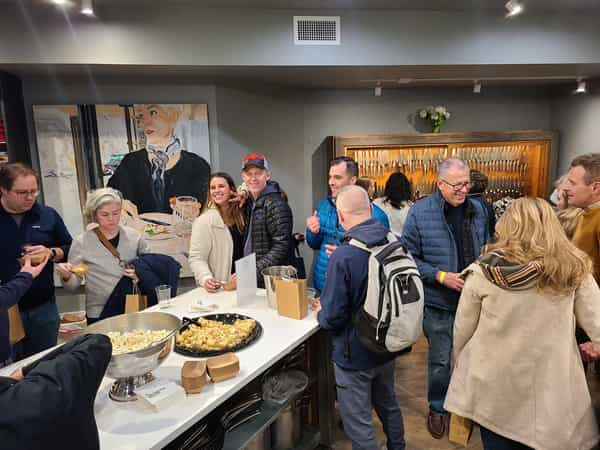 What's the difference between Champagne and Prosecco?
The difference between all wines comes down to four simple variables: the grape, the soil, the climate, and the human culture. To apply these variables to sparkling wine and to aid your holiday wine choices, TCB offers two upcoming bubbly classes:
A Toast to the Holidays: A Celebration of Champagne & Bubbles: Thanksgiving is America's favorite occasion to toast with bubbly, second only to New Year's Eve! Champagne is the most prestigious drink on earth but all that sparkles isn't Champagne. In this seminar, we'll discuss "the night they invented Champagne" and production of the world's other fine sparklers. Tasting includes Champagne, three prominent sparkling wines, a French 75 cocktail and tasting noshes. We only have one spot left in the class on Friday, November 17th at 6:30pm.
Bubbles and Bites: A Celebratory Food & Wine Pairing: Celebrate the old year and welcome the New with Champagne, international bubblies and delicious dishes! This is a convivial and elegant evening celebrating all that sparkles while savoring food pairings designed to enhance each wine. We'll cover "the night they invented Champagne", production of the world's other fine sparklers and tips for pairing bubbly with food. Tasting includes 4 food complements, Champagne, 3 prominent sparkling wines and a French 75 Champagne cocktail. Join us on Friday, December 29th at 6:30pm.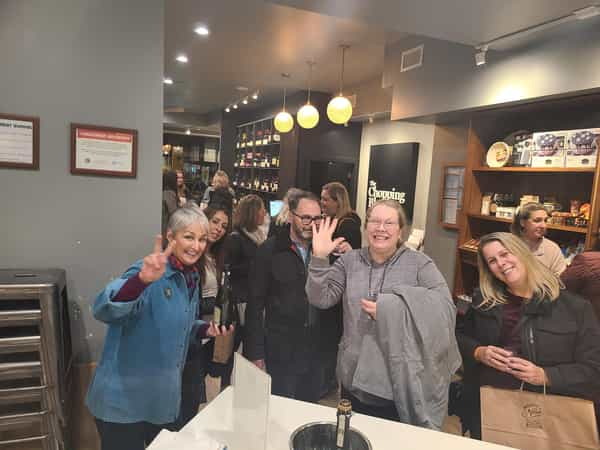 Winter is the season to raise a glass of wine in a toast, either at home or during TCB mini wine classes "Raise a Glass" offered bi-weekly Fridays:
Here's one of my favorite toasts:
"By the bread and the salt, by the water and wine, you are welcome, my friend, at this board of mine!"
We hope to be able to raise a glass and welcome you to our board, The Chopping Block!