Fall is right around the corner, and nothing is better than eating cozy meals on a chilly night. There is something so special about short ribs. They seem fancy, yet they are so simple and easy to prepare: short ribs slowly cooked in a rich braising liquid of red wine, bone broth and hearty herbs. This is the ultimate comfort dish that everyone is sure to enjoy.
What is braising?
Braising is a combination cooking method that starts off by high heat searing followed by slow cooking in a flavorful liquid for many hours, usually in a Dutch oven or slow cooker. Braising works on all cuts of meat, but is the most effective for tougher cuts of meat. It tenderizes and breaks down the protein and connective tissue. While it might come off as intimidating, braising is actually a simple, straightforward method. Don't let the lengthy cooking times of braised recipes scare you off.
When selecting your meat, I recommend using bone-in short ribs. They are more flavorful and cook more evenly. You can use boneless short ribs in this recipe and cook them exactly the same way. Beef short ribs can be a little fatty, look for the ones that have nice marbling throughout.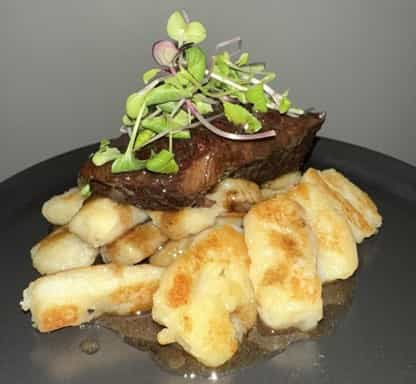 Red Wine Braised Short Ribs
Scroll down for a printable version of this recipe
Servings: 6
Prep time: 20 minutes
Cook time: 4 hours
Total time: 4 hours 20 minutes
5-6 pounds bone-in beef short rib
4 cups beef bone broth
2 cups dry red wine, such as Cabernet Sauvignon
1 large onion, large dice
8 cloves garlic, rough dice
2 large carrots, large rounds
2 celery stalks
1 Tablespoon tomato paste
2 stalks of fresh rosemary
1 bay leaf
2 Tablespoons butter
Salt and pepper to taste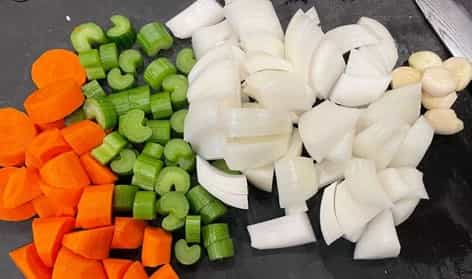 1. Season beef short ribs with salt and pepper.
2. In a cast iron pan, sear beef short ribs on both sides over medium-high heat. Remove from the pan and set aside.
3. In a Dutch oven or braiser, add butter, onions, carrots, and celery and cook until onions are translucent.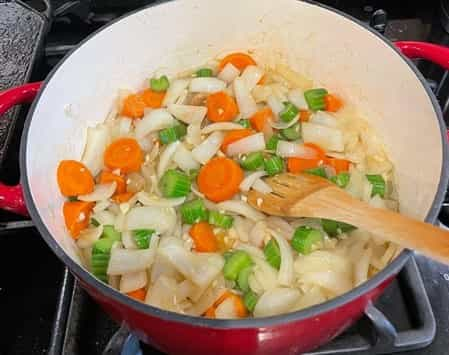 4. Add garlic and tomato paste, cook until fragrant, about 30 seconds.
5. Pour in wine and reduce by half.
6. Add beef short ribs, beef broth, rosemary, bay leaf, and season with salt and pepper.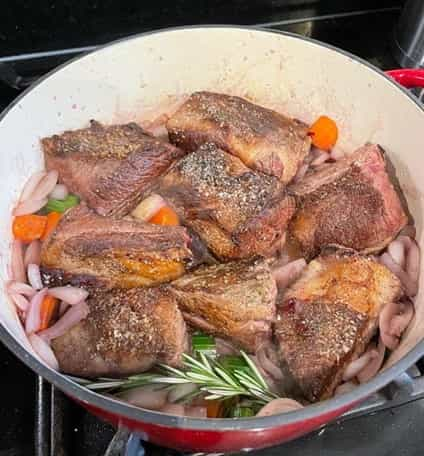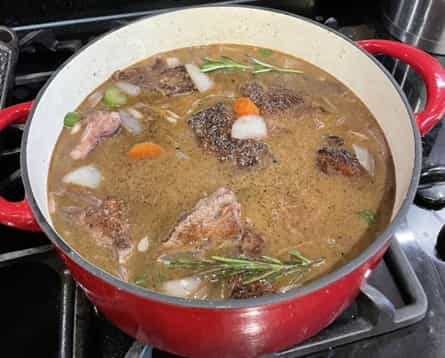 7. Cover and cook on low for 3 to 4 hours, stirring every hour until the meat is tender and falling off the bone.
8. Serve the meat and vegetables over your choice of side such as mashed potatoes, rice, or pasta.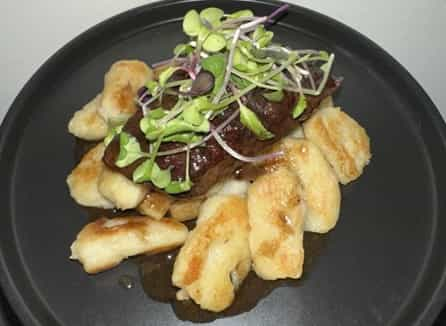 If you enjoyed this recipe and want to learn more about cooking techniques, Flavor Dynamics, proteins, stocks and sauces, I highly recommend looking into our Culinary Boot Camp.