Leaves have turned, the thermometer is dipping lower (slowly, finally), and we are looking for ways to get and stay warm. In any season, we look to consume food and beverage that reflect our surroundings. This isn't just a quaint aesthetic; it is a sensible comfort: refresh in the heat, shelter in the chill. In this respect, few pairings are more successful than bourbon and the fall.
Bourbon is (metaphorically, people!) the distillation of dry leaves in the sunshine. It has the power to warm us from the inside out. Not to suggest I limit my consumption to the cool months. I'll have a nip in July, not just in julep form but neat as well. Bourbon is a uniquely American whiskey, distilled from majority corn as well as additional grains such as wheat or rye, and aged in toasted, new oak for four or more years. I like the mix of deep bass notes with brightness. Nothing like 10am to start this high-proof investigation. It's okay, daylight savings just passed, so really it's later.
Frankly, it is unique for me to have five whiskeys on my shelf, so this seemed like the ideal moment to assess them as a group. Four are bourbon, and I snuck in a distant international cousin for kicks. The challenge of sampling a assessing five stiff beverages is not lost on me, and I fortify myself for the task for you, dear reader.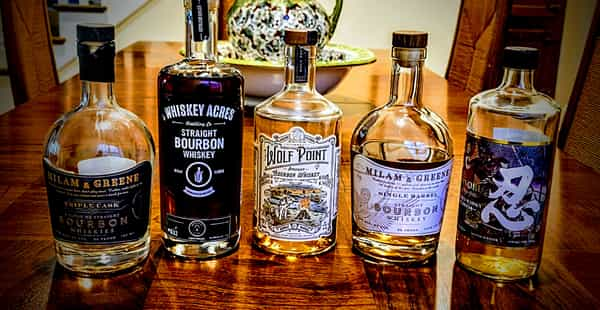 The subjects are as follows:
Wolf Point Bourbon (Chicago, IL)
Milam & Greene Triple Cask Bourbon (TN, KY, TX)
Milam & Greene Single Barrel Bourbon (TN)
Whiskey Acres Bourbon (Dekalb, IL)
The Shinobu 'Mizunara Oak' Whiskey (Japan)
On this list, I think Wolf Point has the most dynamic nose. It smells like marzipan, tobacco and some kind of fruit: I'm going to say nectarine. The nose suggests sweetness, which we can't detect with our olfactory system, but we can associate with certain smells. At this point, I should clear the record. I like to drink stuff a lot, but I am not a trained sommelier or a spirits expert. I know what I like, as the axiom goes. And for what it's worth, I've drunk a lot with a lot of people who drink a lot. The almond persists in the WP when drinking. I like its broad palette. The Wolf Point isn't delicate, but its alcohol is not abrasive either.
Milam & Greene Single Barrel has notes of cedar, tobacco and leather, and overall has a bright and clean aroma. On the palette, the alcohol is gentle, definitely the smoothest of this group. For sipping neat, this one is hard to beat. The M&G triple cask steers towards butterscotch, apple and dry leaves, some very autumnal flavors. It is 8 proof higher than the Single Barrel and that is evident. Lots of flavor; you can still sip it or maybe throw in an ice cube if you want to not make a face.
Whiskey Acres is arguably the most unique of any of the bunch. Its color is notably darker, and I would say its aroma matches that. It smells of molasses and malts like a dark lager. On that note, it is interesting how colors and flavors mirror each other. How specific esters coincide with colors, well, it seems like a cheat to identify darker flavors in a consumable when the color points that way but hey, those two travel as a pair---what can you do? Drinking it, I taste some almond. One thing about salty foods with alcohol, which sounds pretty obvious, but I don't consider much: the salt can really open up flavors that I don't otherwise identify. Tortilla chips were responsible for bringing out the almond.
Our Japanese guest, Shinobu, has an aroma that includes something rather vegetal. It is a flavor that I haven't experienced in whiskey before, though I've tasted it in a range of wines including some merlots. Hazelnuts and almonds and vanilla come through on the palette, but when they fade away, I am left with that vegetal note. Honestly, that is not a positive. While some wines taste of green bell pepper because of the grape, others taste like over-cooked Brussels sprouts because of some wrong microbiotic presence. I think this Shinobu falls into this second category. I hadn't noticed it before today, but now I'm going to have a hard time not smelling/tasting it. That's unfortunate, and definitely not where I expected this session to go.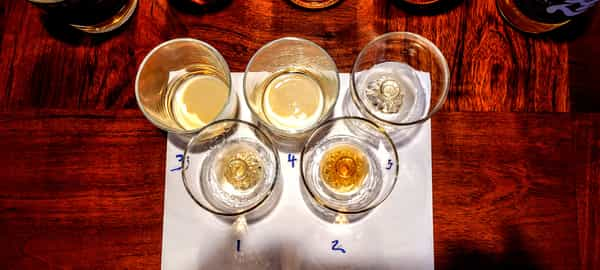 At this point I should say, I've been going back and forth between five whiskeys, trying each multiple times. I expected to be dramatizing my tipsy-ness by this point. But I really haven't consumed very much. None of the glasses had more than 2-3 teaspoons in them, which was enough to catch the smell (fine, bouquet). If I finished all five (and I am too cheap to not) we're talking no more than two and a half ounces, or a little more than a shot. That I can do. And consider moving on to gin afterwards.
Want a rich, wintertime, Bourbon-forward accompaniment to a pan-roasted steak? Try this sauce out. The Bull Run Bourbon we carry at The Chopping Block would be perfect for it.
Bacon Sabayon
Yield: 1 ½ cups or about 6 portions
Time: 45 minutes
1/4 pound bacon, medium dice
6 ounces cream
2 Tablespoons your favorite, full-flavored bourbon
1 Tablespoon brown sugar
1/8 teaspoon liquid smoke
1 teaspoon Dijon mustard
1/2 teaspoon black pepper
1/2 teaspoon cornstarch
2 eggs
2 egg yolks
3/4 teaspoons kosher salt
Apple cider vinegar to taste, about two teaspoons
Render the bacon in a medium pot. Once the bacon has browned, pour off fat, reserving it and let it cool to room temperature.
Add cream, bourbon, sugar, liquid smoke, Dijon mustard, pepper and cornstarch. Simmer for 3 minutes.
Temper the dairy into the eggs and yolks, meaning whisk the eggs and add half of the cream in a slow but steady stream. Add this back to the cream pot and slowly heat to a steam to make a custard.
Whisk in the bacon fat. Strain through a fine strainer.
Season with salt and vinegar
Keep warm until ready to serve.
If you want to learn more about the nuances of bourbon, don't miss our upcoming hands-on Holiday Cocktails class on Friday, December 22 at 6pm. You'll make:
Cardamom Gin Fizz (Gin, Sparkling Wine, Cranberry and Rosemary)
The Alexander #2 (Cognac, Crème de cacao and Cream)
The New West 75th (Bourbon, Apple Cider, Lemon and Raspberry)