The allure of grilling seafood is a symphony of flavors that dances between the sea and the fire, captivating both the heart and the palate. I invite you to join me in my profound love affair with seafood on the grill. Whether you're a seasoned chef or an eager home cook, this exploration of grilling techniques promises to be enlightening and delectable. Together, we'll dive into the world of seafood, discovering the unique charms of each variety as they meet the flames – from salmon to oysters, shrimp to calamari.
Mastering the Art: Tips for Grilling Seafood
Salmon: A Symphony of Buttery Richness
Salmon, with its velvety texture, is a canvas of possibilities on the grill. Opt for skin-on fillets to protect the flesh and enhance the cooking process. A simple marinade of honey, Dijon mustard, and dill offers a balance of sweet and herbal notes. As it grills, the marinade caramelizes, enriching the salmon's natural succulence and delivering a harmonious combination of flavors. The result is a dish that beautifully marries the smokiness of the grill with the lusciousness of salmon.
Shrimp: Small Delights with a Big Impact
Shrimp's versatility shines when grilled to perfection. Skewer them or use a grill basket for ease. Marinate with a blend of olive oil, garlic, lemon zest, and smoked paprika for layers of smokiness and citrus. The grill adds a kiss of char, creating shrimp that are tender, smoky, and bursting with flavor. This delightful contrast between the delicate interior and the slightly crispy exterior makes grilled shrimp an irresistible treat.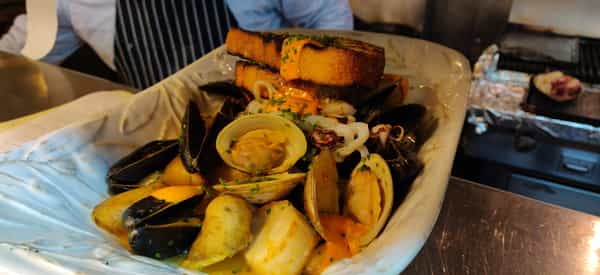 Swordfish: Boldness Meets Elegance
Swordfish, known for its meaty texture, is unyielding against the grill's heat. Marinate it in olive oil, soy sauce, lemon juice, and rosemary for a Mediterranean touch. The grill transforms the marinade into a crust that locks in moisture, resulting in a symphony of robust flavors that remain elegant and tender. This harmonious interplay of boldness and finesse makes grilled swordfish an unforgettable dish.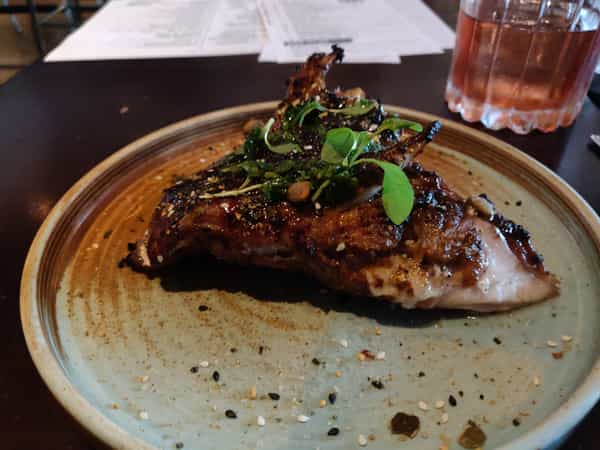 Scallops: Graceful Sweetness and Char
Grilled scallops epitomize elegance, offering a dance of sweetness and char on the palate. Dry the scallops before grilling to achieve a satisfying sear. Melted butter and fresh thyme enhance their inherent flavors, while the grill imparts a tantalizing smokiness that perfectly complements the tender centers. This balance of tender and crispy, sweet and smoky, is what makes grilled scallops a culinary masterpiece.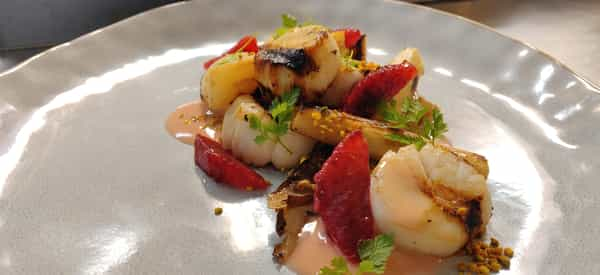 Oysters: Briny Indulgence with a Twist
Grilling oysters elevates their briny richness to new heights. Place shucked oysters on the grill with the cup side down, removing the top shell as they open. Enhance them with a blend of garlic butter, parsley, and Parmesan. The grill infuses an essence of both the ocean and smokiness, creating a culinary sensation that's bold and nuanced. This transformation of oysters from raw to grilled showcases their versatility and opens up a new world of flavor.
Calamari: Tender Charred Elegance
Calamari on the grill boasts a tender center and a delightful char. Marinate calamari rings in olive oil, lemon juice, garlic, and red pepper flakes for a Mediterranean flair. A brief sear on the grill results in calamari that's tender, slightly smoky, and utterly irresistible. The contrast between the delicate texture and the charred exterior adds a layer of complexity that elevates grilled calamari to a whole new level.
Time to Enjoy The Feast
The fusion of sea and flame, guided by techniques and passion, creates a sensory experience that is both captivating and delicious. With an array of seafood treasures at your disposal, a touch of culinary creativity, and the warmth of the grill, you're poised to craft extraordinary dishes that celebrate the ocean's bounty. Each variety – from the rich and buttery salmon to the elegant grilled oysters – possesses its unique flavor profile that's elevated by the grill's touch. So, ignite your grill, apply these techniques with care, and relish the enchanting world of grilled seafood that's as joyous to prepare as it is to savor. Your culinary journey awaits, where the sea meets the grill in a symphony of flavors and textures that will forever entwine your love for seafood and the art of grilling.
To put what you've learned in this post into action and get some valuable hands-on tips, check out our Hands-On Seafood on the Grill class on Saturday, September 23 at 6pm at Lincoln Square. There are just four spots left!