There is nothing that brings me more joy and excitement than hosting a holiday party! I love everything from the planning, decorating, cooking, to above all, welcoming guests into my home. I even don't mind the clean up! I want nothing more than to provide a warm, hospitable place for people to gather and enjoy great food, drinks and company. Ultimately, I want all my guests to remember the experience fondly.
The holiday season is fast approaching and for me, it kicked off with Halloween! I typically throw two big parties a year: Halloween and Super Bowl. My family celebrates Thanksgiving, Christmas, and New Year's and there are usually big celebrations at my parents or other family members houses. I have only ever hosted one Thanksgiving in my house and that was when I first bought the place, and it was a small intimate affair. But Halloween is when I go all out! It takes a lot of planning and organization to execute a holiday get together, but it doesn't have to be overwhelming. My motto is work smart, not hard. The goal is to do very little work the day of the event. Hopefully this outline of how I planned my Halloween extravaganza can serve you well this time of year as you plan your special events.
Planning
This is the most important step in keeping yourself on track. I put a lot of preliminary thought into my events so on the day of, I can enjoy myself with the rest of my guests.
Come up with a theme:

Is it a specific holiday, a period in time, a color palette, etc.?

For my party, each room had it own theme from bloody and gory, to spooky bats and skulls, spiderwebs and ghosts.



Think of decorations to bring this theme to life.

Lighting and candles are really important to set the right mood of the party.




Table décor that complements the food and theme can go a long way.

Centerpieces, plates, platters, drink ware, tent cards, tablecloths
These cauldrons are the perfect serving bowl for the parfaits!






I always like to think of height to create movement on buffet tables or for family style platters.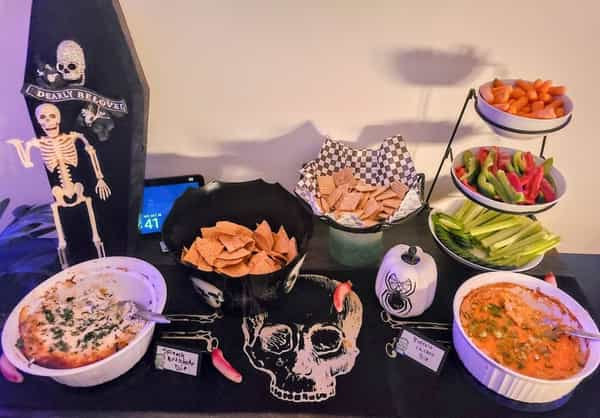 Entertainment
Set a date and time that can maximize the number of attendees.
Create a guest list.

Create custom invitations for free online that match the theme or use a subscription service like punchbowl that keeps track of RSVPs for you.
The invites should go out a month in advance in order to give guests ample time to fit it in to their schedule, but I would suggest no later than two weeks before the gathering.

Entertainment

Music is another great way to set a vibe for the festivities.
Games are always a fun way to connect with guests.
We had bingo, cornhole, beer pong and karaoke.

Concoct a menu

Include appetizers, entrees, desserts, and drinks - try and have an assortment of alcoholic and non-alcoholic options.
Stick to what you are good at. I never suggest experimenting with a new dish for a dinner party.


Will it be buffeted or plated or a combo of both? I like a good buffet because it allows for people to graze and eat when they want with no restrictions. It is also a lot easier to execute from a chef's perspective than a plated event.
Have fun with your food! Create ways to put a twist on your food to appropriately pair with the theme.




Think of how things are served and plated and where they are going to go.




In my living room I had appetizers, in the kitchen I had entrees, downstairs I had desserts, and outside I even had smores and hotdogs to be cooked in the firepit. This created movement in the house and a nice flow of guests from room to room.

Think of any dietary restrictions. I always like to have a mix of vegetarian, gluten free, dairy free and meat options to cover the most common requests I get.
Write out a grocery list - and be thorough! Garnishes, pantry staples, alcohol, even if you think you have it, write it down anyway. You can always cross it off but better to not forget it.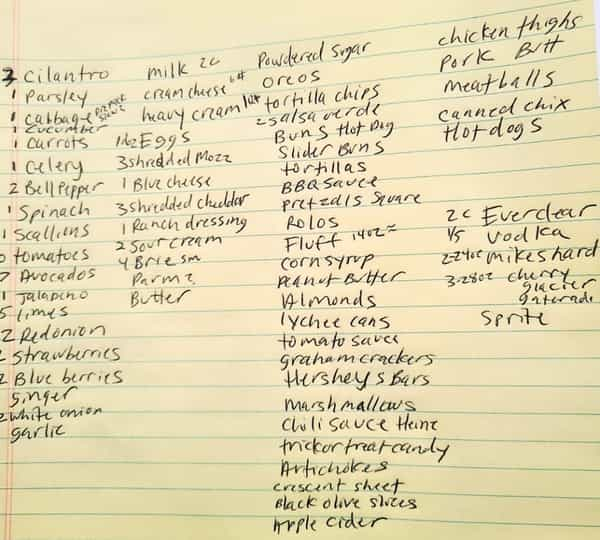 Write a prep list. I start one week before the event, and I do as much as I can leading up to the event. As you can see, I planned my cooking prep around my work schedule.
The prep list should include everything from food preparation, decorations, pulling out everything you need, and all the little details in between (like remembering to change all of the batteries in your decorations before the day of!)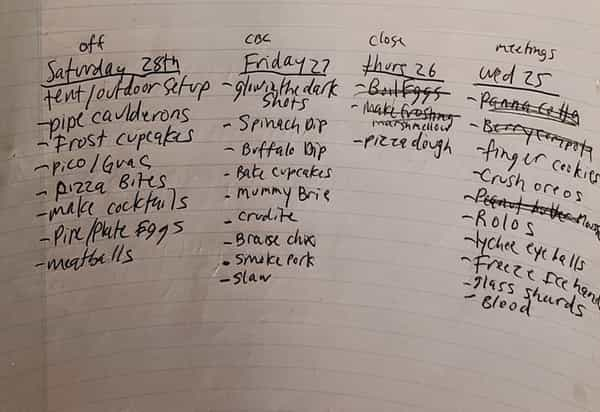 Since my party was on Saturday, I went shopping on Tuesday. Excellent rule of thumb to follow when figuring out what to do first is think of what foods can hold for a few days, what foods can sit at room temperature, what little things can I do to get ahead that don't involve cooking. I usually start with desserts, these are the items that can sit around in the fridge or freezer until you are ready to decorate the day of. I didn't have much time on Thursday, but I was able to get a few projects done and worked ahead to Friday.
The day before is when the bulk of everything should be done. I have my platters ready for the next day, the buffets are set and just waiting for the food to adorn them. All of the decorations are done, playlists for each room are locked in, all of the cooking that needs to happen the day of is mapped out based on longest cooking time.
On the day of, I focus on all of the cold items first and get those squared and out of the away. Since the party started at 8pm I wanted everything done by 7:45pm. I was planning on having some things put into the oven once guests arrived so they would be piping hot, but by 7:30pm, I was done.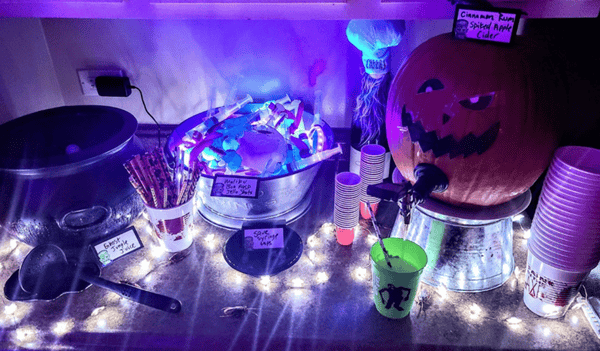 I am about to put the finishing touches on my costume when I notice my cocktail station is soaking wet. I couldn't believe it - my pumpkin had sprung a leak and rum cider was dripping everywhere! Just remember that even though you didn't invite him, Murphy inevitably shows up to the party! With every well-thought out plan, there is always the possibility that something goes wrong. The trick is to not let it get you down. Do your best to come up with solutions instead of focusing on the negative… I know that's a lot easier said than done sometimes!
I was freaking out since guests were to arrive in 15 minutes. Besides praying that everyone shows up fashionably late, what could I do? First, I pour the punch into a large bowl and then I sent my husband to the store to get another pumpkin to tap. Luckily, I was able to finish my costume before he got back, and I was able to re-carve and tap a new pumpkin just in the nick of time before guests arrived.
Over the years, I have burnt food and tried to salvage it, and I have forgotten about dishes in the oven or food cooking on the stove. It happens to the best of us, but there is always a way to make it work. Culinary Boot Camp can give you the confidence to recover quickly from any mishaps in the kitchen!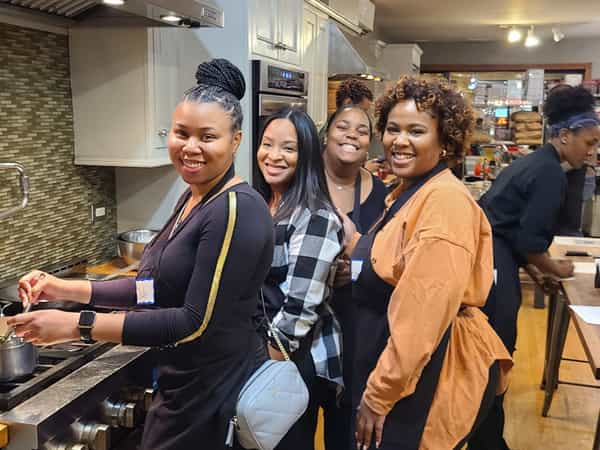 If you don't want to be the host with the most this year come holiday season, let The Chopping Block welcome you and your guests into our home and celebrate in our kitchens with a private cooking event at Lincoln Square. You and your guests will be able to nosh on appetizers, sip on wine, beer, or a even choose a custom cocktail, while having a blast cooking up a storm and eating what you make. Nothing brings people together like food, and it will most definitely be a memorable experience for everyone involved!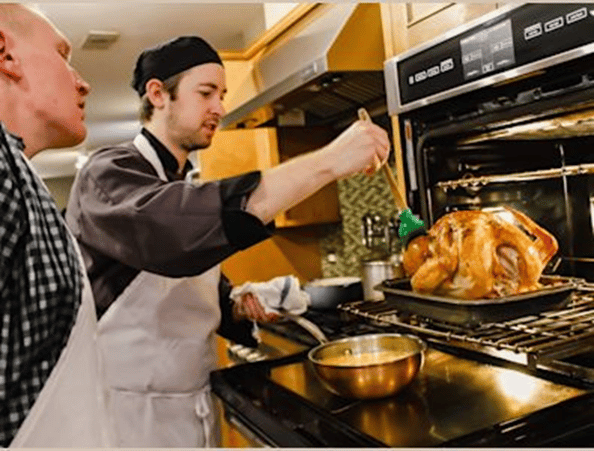 If you wanted to try your hand at planning and executing a full Thanksgiving feast, our virtual Thanksgiving Crash Course if for you! It is one of my all-time favorite classes and the recipe packet is chock full of prep lists, grocery lists, awesome recipes and more. It is a demonstration class, and you will get all of your Thanksgiving questions answered. We also have a Hands-On Thanksgiving Workshop class on Saturday, November 18 at 10am.
Our November and December calendars are live, and there is a class for everything to get you ready for the holidays this year from cocktails, wine, sweets, appetizers and full meals. I hope to see you in our kitchens soon!